Title
Santa Barbara Area Newspapers Now Digitized and Preserved!
Body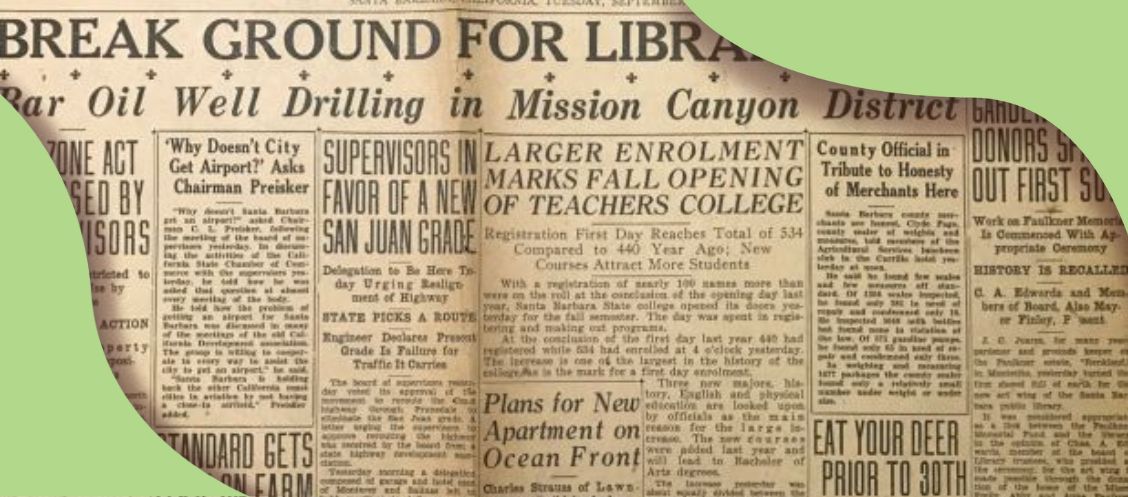 If you've worked closely with microfilm collections, you probably have heard the term "vinegar syndrome." You may have even encountered its unmistakable vinegary smell opening a cabinet of old microfilm. Vinegar syndrome is a chemical form of decay that typically occurs when microfilm, produced during a certain era, is not stored in a temperature-controlled environment. Once the microfilm begins to degrade, it's only a matter of time until the film shrinks, buckles, becomes brittle, and breaks. Vinegar syndrome is also contagious and easily spreads to other microfilm. A good portion of the Santa Barbara Public Library's historical newspaper collection on microfilm–a popular resource for local historians, genealogists, and the general public–has been deteriorating due to vinegar syndrome for a number of years, so Library staff took action by investigating solutions to preserve the information on microfilm and make it more accessible to the public. 
There are a number of ways libraries can go about digitizing their microfilm collections and there are a handful of companies that provide digitization and web hosting services for libraries. The digitization process is expensive and there are almost always annual digital hosting fees once the collection is digitized. SBPL's top priority was to find a solution that provided free and easy access to these historical resources, while also locating an archival home for the microfilm collection. To that end, SBPL partnered with the two institutions who are leading the way in preservation and providing digital access to historical newspapers: UC Riverside's California Digital Newspaper Collection (CDNC) project and Newspapers.com. 
Last November, SBPL shipped 25 unique Santa Barbara area newspaper titles (over 500 reels of microfilm) for digitization to the Newspapers.com digitization facility. Titles included: Carpinteria Herald, Daily News, The Goleta Sun, The Independent (1883-1913, early SB newspaper), and Santa Barbara News-Press (up to 1966). Newspapers.com went straight to work digitizing the collection and as of May of this year nearly all of the film has been digitized and made available on the SBPL's Digital Library webpage. Newspapers.com digitized SBPL's microfilm for free under the agreement that SBPL would provide in-house access only to the digital collection at all of the Santa Barbara Public Libraries for the first three years. Once the three-year embargo expires, the digital content will transfer to the CDNC where users from all over the world will have free access to SBPL's newspapers archive 24/7. When digitization is complete, the majority of SBPL's microfilm collection will be housed in a temperature-controlled archival storage facility off-site. 
The Santa Barbara newspapers archive goes as far back as 1868 and up to 1984. There are a number of search features to explore, and users can download pages in pdf or jpeg format. Sometimes the jpeg higher-quality files are easier to read—especially for the early papers. Using quotes around search terms can be very helpful if you are looking for phrases or names, e.g. "Della Chambers." You can also limit results to news, obituaries, and/or marriage notices. See obituary notice below. 
The Santa Barbara newspapers archive database is an exciting addition to SBPL's digital resources. Looking ahead, we are excited to offer local history programming including a Wikipedia Edit-a-Thon event where community members will be able to use SBPL's local history resources to create Wikipedia articles about past Santa Barbara notable residents. If you're interested in learning more about the historical newspapers archive, or any of SBPL's rich collection of local history resources, feel free to Reserve a Librarian!