Title
SBPL Teen Interns Learn about Entrepreneurship with Local Screen-printing Business Mind Garden
Body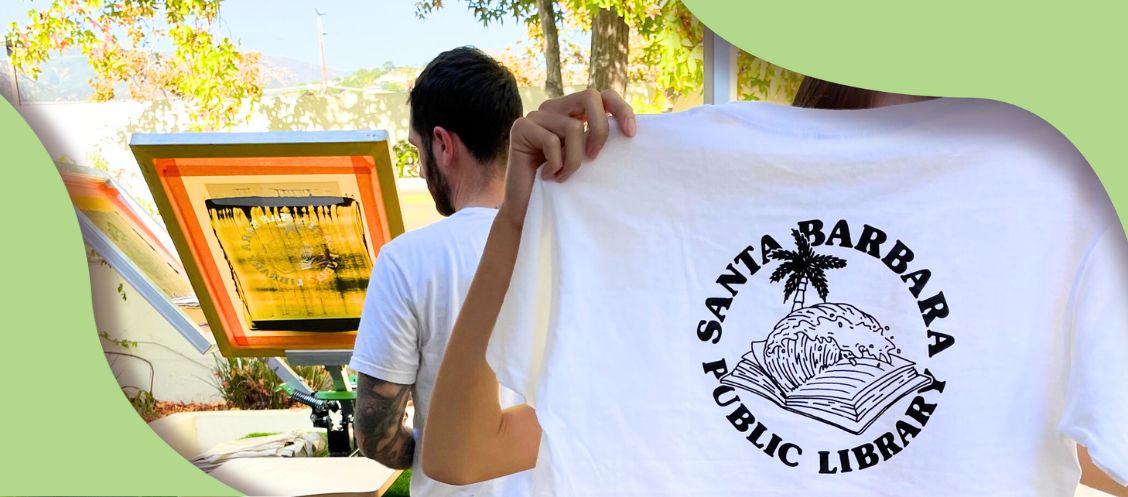 Santa Barbara Public Library's grant-funded teen intern program provides local teens the opportunity to develop job skills as well as explore future careers in either library services or entrepreneurship. Interns had the chance to support the Library's volunteer recognition event and marketing initiative at a recent screen-printing workshop.
Mind Garden is a new local business that specializes in screen printing, branded production, design solutions, and creative direction. Mind Garden founders Jon and Hannah shared their creative process and educational background with SBPL teen interns, outlining how they had taken their passion for graphic arts and turned it into a small business serving the greater Santa Barbara community. 
As part of this collaboration with the Santa Barbara Public Library, teen interns learned about the screen printing process first-hand by screen printing tote bags for library volunteers as well as screen printing customized library designs onto shirts. Designs included an ocean wave with a book, a bookworm on a car for The Library on the Go Van, and the classic Mind Garden Research Logo, replaced with a book at the top of the head. 
Teen volunteer Stella Daoud said,  "I had so much fun trying out screen printing, and now I have this cool wave shirt to keep!"
SBPL was thrilled to work with Mind Garden to host this exclusive event for teens. "We wanted to show teens that careers in creative industries are possible and accessible, and Mind Garden allowed teens to experience that for themselves," said Teen Services Librarian, Kendra Saffie. "That the teens also helped us appreciate other library volunteers by making these unique tote bags, and getting to take home library-related apparel of their own was an extra benefit."
The teen intern program grew out of a need for career and college readiness programming for local teens and the popularity of the Library's teen volunteer programs. Teens earning service hours were increasingly interested in taking on more responsibility and helping with more library programs and services. Likewise, teens expressed interest in the Library's maker equipment and how to develop business skills. To achieve SBPL's equity goals, it was important to the Library that this be a paid internship opportunity, so staff looked for grant opportunities to fund this. Initially, the teen internship was only a summer program, funded by the California State Library's Lunch at the Library program, which funded teen internships to help support Library staff in offering summer reading programming at lunch sites, both at Central Library and at community locations. With the California State Library's Out of School Time grant opportunity, SBPL was able to fund the program to year-round cohorts to give students after-school jobs. In addition to on-the-job training, teens participate in classes on communication, resume, cover letter, and interview preparation sessions with SBPL Works! staff.
"Introducing public service as a career opportunity to young adults and providing meaningful job opportunities is an important component of our teen programming at the Library," said Library Director Jessica Cadiente. "Our Teen Intern Library Program cultivates tomorrow's leaders, nurturing a passion for learning and community engagement." 
SBPL's teen intern program is supported by funding provided by the State of California, administered by the California State Library. 
This Spotlight Post was written by Teen Interns Marley and Kylie.