Title
SBPL's Grant-Funded Parks Pass Project Helps Locals Explore Outdoors
Body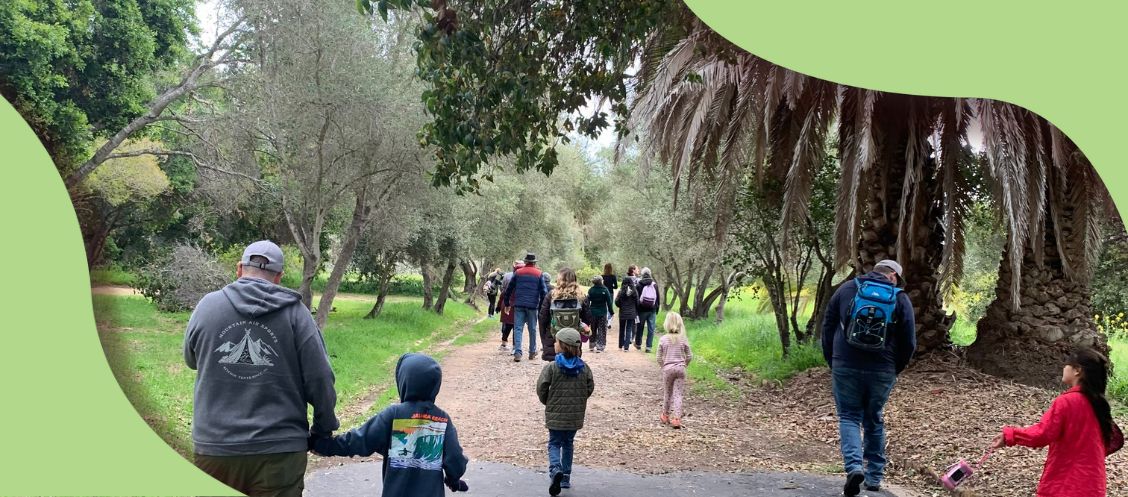 The majority of Library programs and services would not be possible without grant or private funding. Luckily, Santa Barbara Public Library has a great track record of securing outside funding, especially for grant projects. In addition to the local funding which supports the majority of staff, collections, and the operations of the building, the State of California makes many funding opportunities available to libraries through grants from the California State Library. In 2023, SBPL had the opportunity to participate in a grant-funded program aimed at making California State Parks more accessible and promoting healthy lifestyles by encouraging Californians to get outdoors. Local libraries developed their own initiatives to meet the needs of local users. Not only were we able to offer Parks Passes for checkout, we developed programs and a new Adventure Pack collection to encourage local residents to venture into our wonderful natural landscapes. 
This grant funding allowed us to roll out an engaging slate of programming from December 2022 through April 2023. We were able to host special editions of our popular Trail Talks series, including John McKinney, the author of California State Parks: A Day Hiker's Guide, Chumash Author, documenter, and cultural practitioner Monique Sonoquie for an exploration of a case study of the Husahkiw/WaterBear Mountain and Sacred Wind Caves, a visit from the Santa Barbara Audubon Society "Eyes in the Sky" program for an introduction to local birds of prey, and author and trail guide James Wapotich for a talk highlighting local trails. 
Many of our additional events were bilingual, including birdwatching family event with experts from the Santa Barbara Audubon Society and a special Spanish edition of local bird guide created by Library staff, a traditional Chumash storytelling and painting event for English and Spanish speaking families, and a guided nature hike with a local trail guide. This was an important aspect of the project, as our research showed us that families and individuals in our community face barriers to exploring nature including a lack of educational opportunities and materials in Spanish and a lack of knowledge of local parks and other places to explore. We planned programs with the intention of beginning to erase some of these barriers for people in our community. 
We understood the importance of centering the Chumash culture since the City of Santa Barbara and our local California State Parks are on Chumash land. In addition to the two programs led by local Chumash leaders, we collaborated with them to develop Adventure Packs for check out that highlight Chumash culture. The games, instruments, and cultural artifacts in these kits were made by Chumash artisans and were curated for the Adventure Packs with consultation from Monique Sonoquie to ensure authenticity, and all items, instructional inserts, and literature included were all reviewed by her for cultural awareness.
In addition to the Chumash Adventure Packs, we also featured Adventure Packs that we hoped would eliminate barriers to exploring the outdoors for patrons. Adventure Packs included gear for camping, fishing, paddle boarding, hiking, and spending time with your family outside. We created Adventure Packs dedicated to adults, children of different age groups, and all the packs created were bilingual English/Spanish. 
The Parks Pass Grant programming and Adventure Packs at the Santa Barbara Public Library connected a large percentage of patrons to local parks, nature, and increased local and cultural awareness. 85% of the surveyed participants stated that they are now more likely to visit a park because of these programs and resources. 79% of participants said they were more likely to spend time outside because of these programs and resources. 90% of participants stated that the Parks Pass Grant programming and Adventure Packs connected them more to the history and culture of the community.
Not only did this grant-funded program allow us to add new programs and collections to existing library users, The Parks Pass Grant allowed SBPL to draw in brand new users. 19% of participants stated that this was the first time they'd ever participated in a program or used a resource from the Library. 
Browse the full collection of Adventure Packs as part of the SBPL's Library of Things collection.
This program is part of our Parks Pass Grant programing, created with funding provided by the State of California, and administered by the California State Library.