ID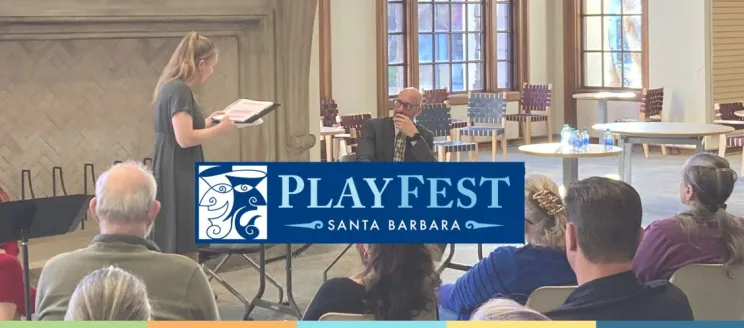 Title
Santa Barbara Public Library and PlayFest Santa Barbara Announce 2023 Reading and Workshop
Authored on
March 28, 2023
Body
PlayFest Santa Barbara, under the Artistic Direction of R. Michael Gros, in partnership with the Santa Barbara Public Library presents the Tenth Annual Festival of New Plays. The staged reading of Jon Klein's Honoree Play, Faithless, will take place at the Santa Barbara Central Library on Saturday, April 22, at 6 p.m. Faithless was selected as the 2022 Honoree play following an international competition.
This is the fourth year that PlayFest has partnered with the Santa Barbara Public Library, which offers free, all-ages programming to the Santa Barbara community. "Partnering with the Santa Barbara Public Library, and hosting the event at the Central Library, enables PlayFest to reach the greater Santa Barbara community and offers participants a unique opportunity to learn about the playwriting process," stated Artistic Director, Michael Gros. 
Faithless, a comedy/drama that takes place in our current time, is about an aging atheist named Gus, recovering from cancer, who is forced to deal with two grown stepchildren: a Presbyterian minister who is suffering from a crisis of faith, and a young woman who seems to have had a glimpse of the afterlife after a head injury. Gus is also dismayed by his adopted child, a teenager who suddenly decides she'd like to be a nun. 
A post reading talkback between the audience and the playwright will immediately follow the reading. The reading is free and open to the public and will be held in the Faulkner Gallery at the Santa Barbara Central Library, located at 40 East Anapamu Street.
The 2023 Festival also incorporates a free playwriting workshop on Saturday, April 22. The workshop will be taught by the Honoree playwright, Jon Klein, and is open to the general public ages 16 and up. Through a series of short individual and group writing experiments, workshop participants will explore and deepen their playwriting skills and begin to create a short written theatrical work. Jon will also share aspects of his professional playwriting career. No experience is necessary, however, an interest in playwriting is a plus. The workshop will also take place at the Santa Barbara Central Library in the Faulkner Gallery (East) from 10:30 a.m. until 12:00 p.m.
The workshop is free; however, reservations are required as capacity in the workshop is limited to assure more individualized coaching. Reserve your spot in the Library's calendar.
Honoree Playwright and Workshop Leader biography:
Jon Klein is the author of over thirty produced plays, produced Off-Broadway and at many prestigious regional theatres, including Actors Theatre of Louisville, Arena Stage in D.C., Arden Theatre in Philadelphia, Center Stage in Baltimore, South Coast Repertory in Costa Mesa, Alliance Theatre in Atlanta, Alley Theatre in Houston, A Contemporary Theatre in Seattle, Seattle Children's Theatre, and many others. Click here to read more about Jon.