ID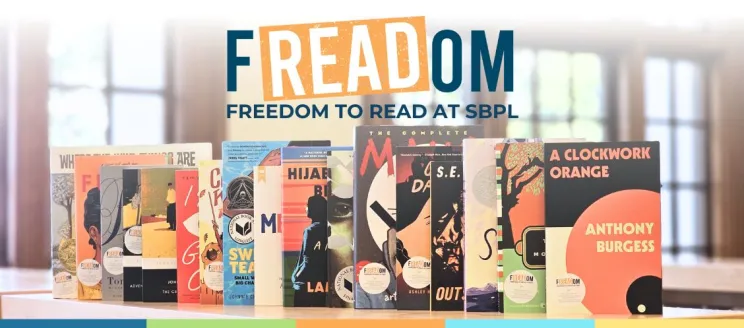 Title
SBPL Celebrates the Freedom to Read for Banned Books Week
Body
Santa Barbara Public Library invites the community to celebrate the freedom to read this October with special events and book giveaways as part of Banned Books Week.
Across the United States, a record number of book were challenged in 2022, including 2,571 unique titles, according to the American Library Association Office of Intellectual Freedom. The majority of books targeted for removal from libraries explore the history of institutional racism in America and gender identity and sexuality.
As outlined in SBPL's Collection Development policy, the Library's mission includes providing access to information and collections in order to support the free expression of ideas, an informed public, and participation in government and civil society in support of the public good.
To encourage access to information and the free expression of ideas, SBPL will distribute free copies of more than 250 unique titles that have been challenged historically or in recent years. This project is funded by an anonymous private donor.
Community members are invited to explore frequently challenged titles at Library on the Go van stops throughout the week, including a Library on the Go Happy Hour from 5 p.m. to 7 p.m. on Monday, October 2nd at Shaloob's Funk Zone Patio, on State Street during the Farmer's Market from 3 p.m. to 7 p.m. on Tuesday, October 3rd, at the Senior Expo at Earl Warren Showgrounds from 9 a.m. to 12 p.m. on Wednesday, October 4th, on State Street during 1st Thursdays from 5 p.m. to 7 p.m. on Thursday, October 5th, and at a Books and Breakfast event at Central Library from 10 a.m. to 11 a.m. on Friday, October 6th.
About Banned Books Week
Since 1982, Banned Books Week has rallied librarians, booksellers, authors, publishers, teachers, and readers of all types to celebrate and defend the freedom to read. Banned Books Week is an annual event that highlights the value of free and open access to information. The event is supported by a coalition of organizations dedicated to free expression, including the American Library Association, and is endorsed by the Center for the Book in the Library of Congress.