Title
Meet Catalina, SBPL's Spanish Outreach Coordinator
Body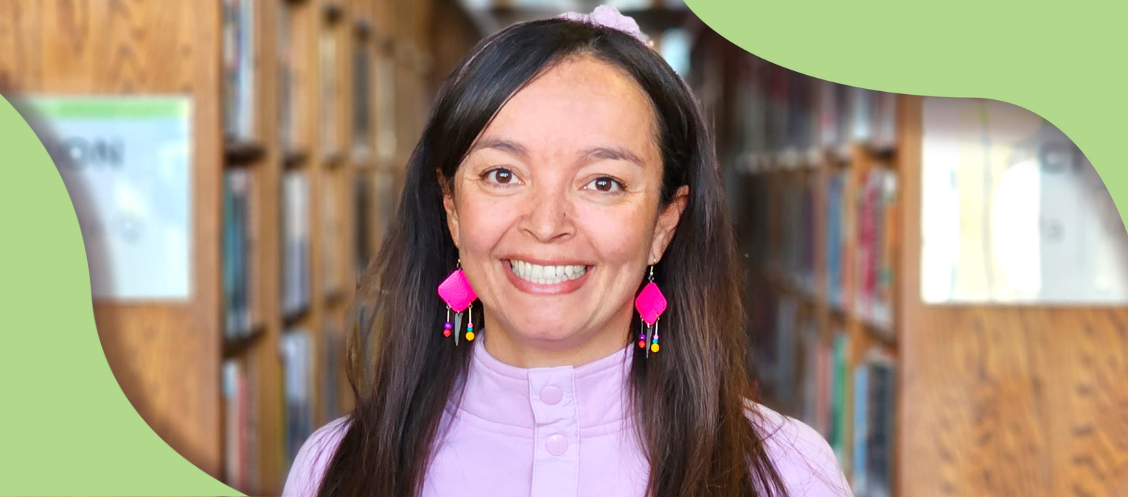 Serving the Spanish-speaking community is critical to Santa Barbara Public Library's mission. For SBPL to shape our programming with a focus on the most urgent needs of this community, we needed to engage directly with Spanish speakers to learn their aspirations and ensure that they are aware of all the publicly funded resources available to them at their local library.
As Santa Barbara Public Library Spanish Outreach Coordinator, I am honored to serve the Spanish-speaking community. Because I'm an immigrant myself, I see many of our patrons as I once saw myself: shy, nervous about belonging, not sure how to access services, and not knowing how to articulate their interests to those who work in institutions that are designed to meet their needs. Although my efforts have resulted in greater access to the SBPL by the Spanish-speaking community, I feel like I have benefited the most. 
Working with the Spanish-speaking community to strengthen their connection to SBPL gives me the opportunity to learn and understand the community's needs, and I couldn't do it alone! We have an entire team at the Library who work together to serve Spanish speakers. For the last few years, the Spanish Outreach Team has engaged the Latino community both inside and outside the Library. We walked around our city and talked to community members at parks, bus stops, and laundromats, among other public spaces. 
We conducted surveys about their knowledge of free library resources and services. We were surprised how many of those who visited the Library regularly still didn't know the depth of our services. Many we encountered outside the Library were completely unaware that the Library was a free resource open to all, let alone the full extent of all we offer. Through our conversations, they became more open and shared some of their concerns and fears, which allowed us to hear firsthand the needs and goals of some community members.
Community members expressed concern about the need for safer public places for children and teens to spend their free time and study or do homework. Many would like to have more free or affordable ESL classes, more resources regarding legal advice and resource navigation, and assistance in completing government forms. There have also been fears expressed about their teens. Parents stated that their teens need more engaging activities to ensure they aren't drawn into potentially dangerous or destructive habits or struggling to focus and succeed in school. Many of those surveyed have expressed fear about revealing their legal status, making them feel that they must live in the shadows of the community.
Over the last few years, SBPL staff have considered all this feedback when planning and designing our programs and services. These are some of the recent initiatives. 
Community Connections
SBPL Community Connections is a program to help residents access needed community services, both inside and outside the Library. Community members can obtain assistance in identifying vital community resources to meet their needs, with a focus on housing, health, nutrition, employment, and education. Library staff can help find the right community organization to help with basic needs and often invites organizations to the Library to make learning about what they offer easier. By expanding our capacity to provide practical social service assistance, we can help the most vulnerable members of our community, including members of the Hispanic community who may be struggling.
Programs for Teens
The Teen Advisory Board is a group for teens to help shape the Library's teen services, programs, and collections. Teens could earn volunteer hours at the library or even join the SBPL team as a Teen Intern. SBPL also organizes regular arts activities, opportunities for teens to socialize, classes to support educational goals for teens and other events to help them learn, explore their interests, and connect with their community.
Programs for Kids, Families, and Caregivers
Stay and Play program is available every Tuesday at the Eastside library and in some Santa Barbara parks throughout the week. Caregivers and their young children can socialize while building early literacy skills in both English and Spanish.  
The Spanish Outreach Team develops special program series that target the needs of Spanish speakers. For example, from January to May 2023, we offered the Madres Unidas program. This program provided a space for caregivers in our community to come together, share their stories, and support each other. We planned this program in partnership with caregivers attending early literacy programs and designed it based on their needs, interests, and input.
In this series of Madres Unidas, Ali Cortes, a Registered Associate Marriage and Family Therapist, and yoga instructor Lesley Guerrero worked with our caregivers to create an open and safe environment through meditation and guiding the caregivers into wellness. They were here to support and empower this group of caregivers. Their work is rooted in being human-centered and solution-focused. During their sessions, they used sound bowls for meditation, educated us about essential oils and their benefits, helped us recognize the energy centers in our bodies, taught breathing techniques, and encouraged self-expression. In every session, caregivers have expressed that it has helped them understand the importance of caring for themselves, even while caring for someone else.
Programs for Adults
SBPL partnered with Women's Economic Ventures (WEV), a non-profit organization that supports economic empowerment for people of all gender identities in Santa Barbara and Ventura Counties, to offer a course in Spanish on how to start your own childcare business. This five-class series introduces the fundamental business principles of owning and operating their own in-home early childcare center. Topics included business administration, permits, licensing, marketing, and budgeting. Participants created a business plan and learned about community resources and the steps to starting or strengthening their own businesses.
We also offer Spanish computer classes twice a month for adults. Community members are encouraged to bring their computers or use a library laptop to learn basics and improve their skills. 
The Spanish Book Club meets every other month on the last Friday and is a space for exchanging ideas and conversations about literature. The works discussed in this group are diverse and include many literary styles and genres, from classic to contemporary. 
Finally, the Bilingual Arts and Crafts workshop for adults occurs every other month and alternates with the Spanish Book Club. In this group, we enjoy coffee and conversation while letting our creativity soar with crafts. We emphasize entertainment, memory, socialization, concentration, and cognitive activities.
It's important to note that this work will always continue, and SBPL wants to respond to changing community needs. The Spanish Outreach Team is continually making connections in the community. SBPL is here to help everyone to improve their situation and help them reach their goals.
SBPL endeavors to build resilience, support community education, and improve the health and well-being of the Santa Barbara community, regardless of whether you speak English or Spanish.