ID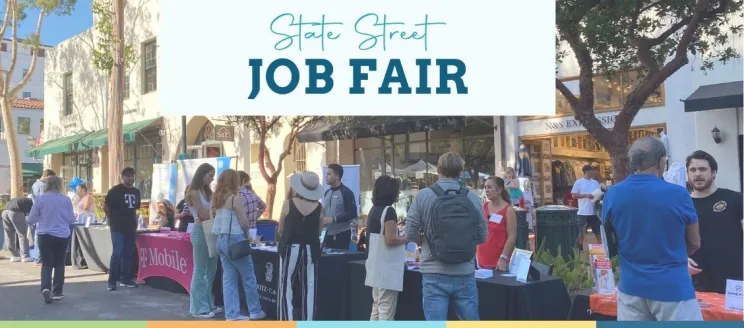 Title
Find Your Next Career Opportunity at the State Street Job Fair on April 19
Authored on
March 21, 2023
Body
Santa Barbara Public Library invites job seekers to the State Street Job Fair on April 19 from 3 - 5 p.m., where they will have the opportunity to connect with over 100 employers with immediate openings in the Santa Barbara area. Employers from a wide variety of organizations and industries who are seeking committed, hardworking, and enthusiastic employees to fill available positions will be available to discuss opportunities.
This unique job fair will be hosted on 700 and 800 blocks of State Street between Ortega and Canon Perdido, and additional hiring businesses within the downtown area will be noted by balloons in their storefront window.
Food and drinks will be available on a first-come, first-serve basis and attendees will have a chance to win a $25 gas card.
To complement the State Street Job Fair, the Santa Barbara Public Library and participating agencies are offering employment related workshops leading up to the event.  Workshops topics include: interview preparations, creating a resume, job research, preparing for a job fair and cover letter best practices. 
Employment Workshops will be offered in English at Central Library, 40 E Anapamu Street, at 12 p.m. on Friday April 7 and 14. Employment Workshops will be offered in Spanish at Eastside Library, 1102 E Montecito Street, at 5 p.m. on Thursday April 6 and 13. 
Beginning April 1, Job seekers are encouraged to register at aprilstatestreetjobfair.eventbrite.com for the event.
The State Street Job Fair is organized by the Santa Barbara Public Library, with support from Workforce Development Board of Santa Barbara County, Downtown Santa Barbara, Visit Santa Barbara Santa Barbara South Coast Chamber of Commerce, America's Job Center of California, Santa Barbara Foundation, and Santa Barbara Community College. This event is supported by grant funding provided by the Santa Barbara Foundation.
Visit the Santa Barbara Public Library online at SBPLibrary.org for information about programs and services. All library programs are free and open to the public.