ID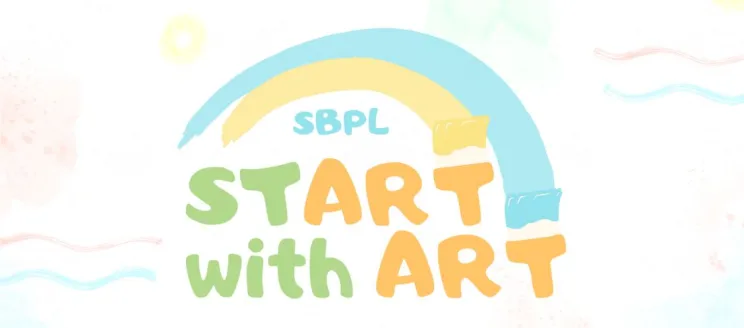 Title
Santa Barbara Public Library and Santa Barbara Museum of Art "Start with Art" on State Street
Authored on
February 28, 2023
Body
The Santa Barbara Public Library has partnered with the Santa Barbara Museum of Art to host a new free monthly art experience on State Street starting March 17 at 2 p.m. The program is designed for preschoolers and kindergartners. All supplies will be provided, and children will be encouraged to take home their art pieces. Members of the public can check out books, and older children can participate in the monthly maker challenge at the Library on the Go Van, which will join the event on State Street between Anapamu Street and Figueroa Street.
SBMA staff have planned a novel activity each month. Start with Art events will be on Fridays, March 17, April 21, and May 19. Young artists should drop in at 2:00 p.m. or 2:30 p.m. for an introduction to the art activity to enhance their creative learning. 
Library Director Jessica Cadiente says, "We're excited to partner with the Santa Barbara Art Museum to offer this cultural enrichment program on State Street. Public gathering spaces are the heartbeat of a city. State Street is one such space, and the Library will continue to be a part of activations on State Street as the City embarks on the new State Street Master Plan." See how Create State is progressing at https://statestreet.santabarbaraca.gov/state-street-master-plan-events 
Santa Barbara Public Library and SBMA hope that participating preschoolers and kindergartners will gain creativity and pre-writing skills by attending Start with Art. Artistic expression can aid in the development of cognitive, social-emotional, and physical skills for young children, and the transition from preschool to elementary school is a key time to build these skills. Opportunities for self-expression in childhood also lead to gains in confidence and self-esteem. According to the International Child Art Foundation, "Research indicates that a child exposed to the arts acquires a special ability to think creatively, be original, discover, and innovate—key attributes for individual success and social prosperity in the twenty-first century."
On March 17, Jason Summers will lead a found-object weaving sculpture project inspired by Joan Tanner's installations at SBMA. Check the Library's online calendar at SBPLibray.org for updates on April and May's themes. SBMA and the Library welcome families to explore the Art Museum and the Library to complement artistic learning. 
About the Santa Barbara Public Library
The Santa Barbara Public Library is a department of the city of Santa Barbara and is dedicated to supporting education for all ages through classes and events, building a community of readers, empowering individuals with free access to information, and connecting people to community resources. For information, visit www.sbplibrary.org.
About Santa Barbara Museum of Art
Throughout its history, the Santa Barbara Museum of Art has been bringing people and art together through a broad array of formal and informal learning opportunities for all ages, both in the Museum and out in the community. Many of these programs involve collaborations with community organizations, schools and teachers, colleges and universities, as well as selected artists. For more information, visit www.sbma.net.
Contact: Holly Broman, Youth Programming Librarian
Phone: 805-564-5602
Email: HBroman@SantaBarbaraCA.gov