ID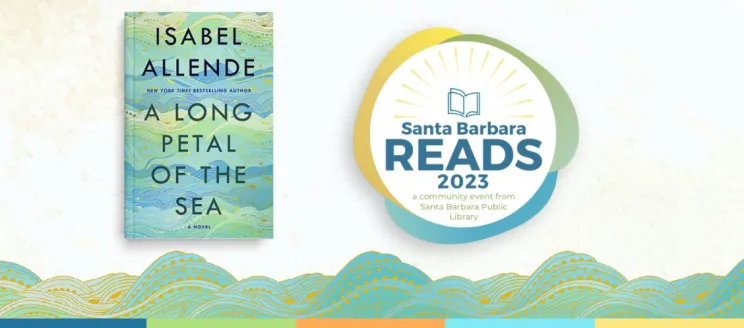 Title
Santa Barbara Public Library Announces 2023 Santa Barbara Reads Title
Authored on
August 20, 2023
Body
Santa Barbara Public Library is pleased to announce the selection of Isabel Allende's award-winning historical fiction novel A Long Petal of the Sea as the featured title for Santa Barbara Reads 2023. 
Each year, Santa Barbara Public Library encourages local residents to read the same book at the same time to connect with one another, engage in discussions about issues that matter, and examine the world from different viewpoints. Through Santa Barbara Reads, SBPL distributes free copies of featured titles throughout the community and offers programs and book discussions in order to engage deeply with issues explored in the novel. 
A Long Petal of the Sea is a sweeping historical novel that follows two refugees from the Spanish Civil War as they build a new life in Chile. Through the story of Roser, a talented piano player, and Victor, a doctor, Allende explores timeless themes of belonging, family, and the triumph of the human spirit in the face of profound sorrow and adversity in this ultimately hopeful story. Though the story spans the majority of the 20th century, its interrogations of war, displacement, and the threat of fascism are equally relevant today. 
SBPL is pleased to offer the featured title in English and Spanish in print book, digital book and audiobook formats for maximum accessibility. 
To ensure all ages are able to participate in Santa Barbara Reads, two companion titles for younger readers will also be distributed and featured in family programming. 
Upper elementary students, junior high students, and their families are invited to read and discuss The Last Cuentista by Donna Barba Higuera, an award-winning and suspenseful middle grade novel that explores the power of storytelling. Higuera transports readers to a near future in which a select group of families have been sent to populate a new planet after a comet has ravaged Earth. The main character has a special connection with her abuela and "carries the stories of our past, and with them, any hope for our future." 
Younger readers and their families are invited to a special storytime featuring Dreamers by Yuyi Morales, a gorgeously illustrated picture book autobiography that celebrates the powerful role of libraries for immigrants to the United States.
Santa Barbara Reads will kick off on September 28, 2023 at 6 p.m. with Backbone Storytelling at Wylde Works at 609 State Street. Print copies of A Long Petal of the Sea will be available on a first come, first serve basis at the event. 
Santa Barbara Reads events will run from late September through mid-November and include book discussions, workshops, musical performances, and more! 
Santa Barbara Reads is funded through the annual support of the Santa Barbara Public Library Foundation. To learn more about the foundation and how to support SB Reads 2023, visit their website.