ID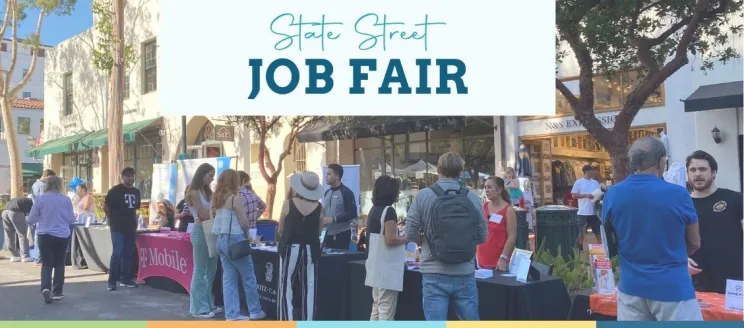 Title
Santa Barbara Public Library Hosts the State Street Job Fair on September 27th
Authored on
September 9, 2023
Body
Santa Barbara Public Library invites job seekers to join us at the State Street Job Fair on September 27, from 3:00 to 5:00 p.m. This event offers an excellent opportunity to connect with over 100 employers actively seeking committed, hardworking, and enthusiastic individuals to fill immediate openings in various organizations and industries throughout the Santa Barbara area.
The job fair will be located on the 700 and 800 blocks of State Street, between Ortega and Canon Perdido Streets.
During the event, participants can enjoy complimentary food and drinks on a first-come, first-served basis and have a chance to win a $25 gas card.
To further enhance your job search experience, the Santa Barbara Public Library and participating agencies are offering informative workshops leading up to the event. Topics covered in these workshops include interview preparations, resume creation, job research, job fair readiness, and cover letter best practices. These workshops are designed to aid individuals seeking employment by enhancing their résumé writing skills and getting the most out of attending a job fair.
The English workshops will take place at the Faulkner East Gallery of the Central Library, located at 40 E. Anapamu Street. The "Resume Writing Workshop" is scheduled for September 19th, and the "Top Tips for Job Fair Success" will follow on September 20th. Both workshops will run from 2pm to 3pm.
For Spanish-speaking participants, the workshops will be hosted at the Eastside Library, situated at 1102 E. Montecito Street. The "Resume Writing Workshop" is slated for September 21st, while the "Top Tips for Job Fair Success"  will occur on September 22nd. Both of these workshops will also run from 2pm to 3pm.
To secure your spot at the State Street Job Fair, we encourage job seekers to register at starting September 1 in the Library's event calendar.
The State Street Job Fair is organized by the Santa Barbara Public Library, in collaboration with Workforce Development Board of Santa Barbara County, Downtown Santa Barbara, Visit Santa Barbara, Santa Barbara South Coast Chamber of Commerce, America's Job Center of California, and Santa Barbara City College. This event is supported by grant funding provided by the Santa Barbara Foundation.
About SBPL Works!
SBPL Works! Is a program from Santa Barbara Public Library that offers one-on-one assistance and small group classes for jobseekers looking for a new job, wanting to advance their skills in their current job, or looking to grow their skills to begin a new career. 
Visit the Santa Barbara Public Library online at SBPLibrary.org for information about programs and services. All library programs are free and open to the public.