ID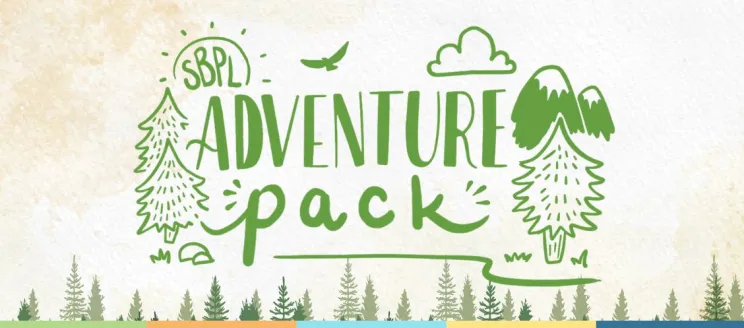 Title
Santa Barbara Public Library now has Adventure Packs filled with outdoor gear for check out!
Authored on
January 10, 2023
Body
Get the gear you need to explore State Parks, State Beaches, and more by checking out an Adventure Pack at Santa Barbara Public Library!
Research shows that spending time outdoors is associated with better mental and physical health. Santa Barbara Public Library invites the community to explore the great outdoors with the help of a new collection of items to borrow -- Adventure Packs! The Adventure Packs are part of a project funded by a grant from the State of California and administered by the California State Library. Programs and events will complement this new library collection and will be held throughout the spring.
Check out an Adventure Pack from the Library to make great memories while hiking, camping, and enjoying the beach. Adventure Packs have equipment and literature to educate you about heading out into nature to make outdoor activities accessible for all ages. All packs have bilingual Spanish and English instruction inserts and descriptions. Adventure Packs include items ranging from a stand-up paddle board to a family fishing kit. When you use your library card to borrow these items from the Library, there's no need to rent items, find storage space for gear, or commit to purchasing your own. 
SBPL cardholders can find the Adventure Packs in the SBPL catalog, place a hold, and receive a notification when it's ready to be picked up. Visit the Central Library to check out an Adventure Pack and borrow it for three weeks. 
These Adventure Packs were designed to complement Parks Passes, which check out for one week and are good for admittance and parking to over 200 state parks, including nearby Gaviota State Park, Chumash Painted Cave State Park, and Carpinteria State Beach. State Parks, in partnership with the First Partner's Office and the California State Library, are providing free vehicle day-use entry to over 200 participating State Parks with the use of a Parks Pass. 
SBPL will be hosting several Parks Pass Grant events for an introduction to topics that you'll be able to explore further at our State and local parks. Family events related to the Parks Pass Grant include Chumash Painted Cave: Family Stories and Painting event with Alain Salazar and Mona Lewis, Eyes in the Sky bird encounters in English and Spanish, and more. Check our calendar for more details. 
Santa Barbara Public Library is a department of the City of Santa Barbara. Visit the Santa Barbara Public Library online at SBPLibrary.org for information about programs and services. All library programs are free and open to the public.
Contact: Ariana Bilek, Circulation Supervisor
Email: ABilek@SantaBarbaraCA.gov
Phone: (805) 564-5659