ID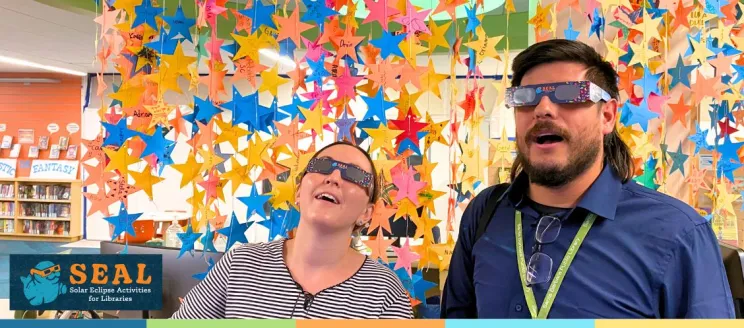 Title
SBPL Distributes Free Eclipse Glasses and Hosts Related Programming
Body
In preparation for the Solar Eclipse on the morning of October 14th, Santa Barbara Public Library will be giving out 4000 eclipse glasses and hosting educational events to help the community of Santa Barbara observe this celestial phenomenon. Glasses distribution will start on September 25th during library open hours. Library staff will give out eclipse glasses at Eastside Library, Montecito Library, the children's library desk and upper level desk at Central Library, and at Library on the Go stops while supplies last. 
If schools or community groups are interested in sets of eclipse glasses to host their own viewing, reach out via the Library's website contact form to make arrangements.
Families can also attend a special edition of Library Lab, SBPL's weekly STEAM educational event for school-age children, in anticipation of the eclipse. Library Lab: Eclipse Edition will be held on October 7th from 1:30 p.m. to 3 p.m. in the Faulkner Gallery at Central Library. Children and families can learn about eclipses and outer space with fun, interactive STEAM activities. Learn more in the Library's event calendar.
Local Astronomer and NASA Solar System Ambassador Krissie Cook will be facilitating an activity at Library Lab: Eclipse Edition and is ready to answer all your eclipse-related questions! Krissie Cook was selected to be a Solar Eclipse Activities for Libraries (SEAL) Eclipse Expert by STAR Net and is excited to share her knowledge. 
Some available eclipse glasses will be reserved for those attending this event. 
Distribution of glasses and related programming are possible because of the SEAL program! SEAL is provided thanks to a grant from the Gordon and Betty Moore Foundation and a supplement to the NASA@ My Library Project and managed by the Space Science Institute's STAR Net team. STAR Net is providing 5 million solar viewing glasses to about 10,000 public libraries and 55 state library agencies across the nation. Eclipses are only safe to view with solar viewers like these that are compliant with the ISO 12312-2 safety standard. These viewers can be reused as long as their filters aren't scratched, punctured, torn, coming loose from the frame, or otherwise damaged. To learn more about the upcoming solar eclipse, go to scigames.org/eclipse.