ID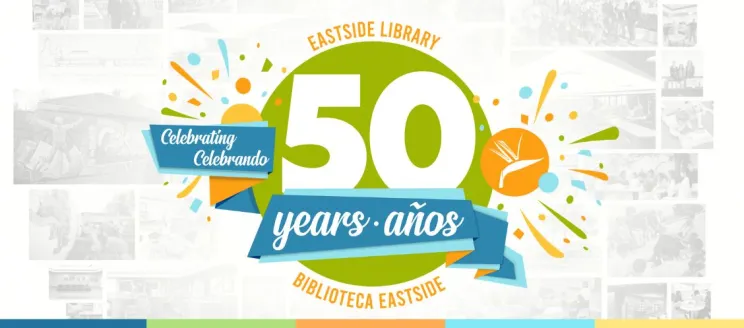 Title
Celebrate the 50th Anniversary of Eastside Library
Authored on
August 22, 2023
Body
Santa Barbara Public Library invites residents to celebrate 50 years of literacy, learning, and community building at the Eastside Library on Saturday, September 16, 2023, from 11 a.m. to 4 p.m. 
Join us for crafts, activities, food, Lotería, mariachi, a presentation on the history of the Eastside Library, and cupcakes (because no birthday celebration would be complete without cake). 
SBPL will also honor the legacy of Elvira Gomez de Tafoya, a longtime volunteer and supporter of the Eastside Library, who passed away in late 2022. 
In April 1968, the day before Dr. Martin Luther King Jr was assassinated, the Board of Library Trustees voted to prioritize the building of the Milpas Branch (Eastside Library) to meet the needs of the Eastside community. Santa Barbara Public Library Director, Robert Hart, observed that though the library's bookmobile could reach many of the children in the Milpas area, their parents, other adults, and seniors were not being served by the library. After five years of planning and community-driven fundraising efforts by the MLK Memorial Wing Committee, the Eastside Library opened in May 1973.
More than books, the Library and MLK Memorial Wing served as a community center for the Eastside neighborhood, serving as a gathering place and programming space for the predominantly Latine, Hispanic, and Black communities. Programs included Lowrider car shows, poetry and writing workshops led by Sojourner Kincaid Rolle, Aztec and Caribbean dance classes, and the Black Styles/Black Spaces photography exhibit, which included works by black students and graduates from Brooks Institute. 
Eastside Library was renovated in early 2020, and the new, flexible space has emerged as a thriving community hub from the pandemic. Eastside Library offers two weekly early literacy classes, including the bustling Stay and Play program, an innovative format that provides caregiver support and helps young children learn the skills that will help them as they learn to read and write, and Bilingual Stories and Songs; one-to-one appointments for job and career support in SBPL Works! or support accessing social services through the Community Connections program; English conversation groups; computer and internet classes and tech coaching; a Spanish book club; a Teen Advisory Board and STEAM activities for school-age children; and educational and enrichment classes and events throughout the year for all ages. The curated collection offers high-interest books for browsing and access to Central Library's collections through regular holds delivery. 
"Libraries today are more important than ever, serving not only as centers of learning and literacy but also as third places separate from work and home where people from all backgrounds can meet one another and build community," said Jessica Cadiente. "The Eastside Library staff, some of whom have worked at the location for more than a decade, are doing that work every day creating and holding space for those connections to flourish. We're proud to continue that legacy for decades to come." 
Honor the past and celebrate the future at Eastside Library's 50th Birthday party Saturday, September 16, 2023.