ID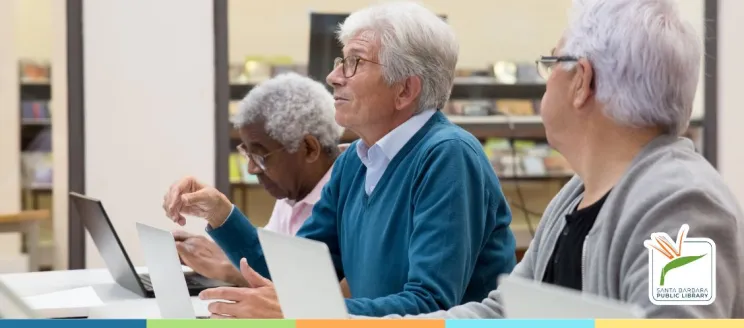 Title
Santa Barbara Public Library Offers Computer and Internet Classes in English and Spanish
Authored on
September 9, 2023
Body
In today's fast-paced digital landscape, possessing basic computer and internet skills is essential for both personal and professional growth. To ensure that everyone has an opportunity to advance their career, stay connected with friends and family, and access important information, Santa Barbara Public Library is offering Computer and Internet Classes in English and Spanish. Classes are for adults at a beginner level or those who want to refresh their computer use and internet search skills. 
The emphasis will be on offering participants a strong foundational understanding of computers, operating systems, and effective internet search strategies.
Workshops will be held at the Eastside Library located at 1102 E Montecito St. 
The English language workshops will be held from 3 to 4 p.m. on Wednesdays: October 11, 18, 25, November 1, 8, 15. 
Spanish-language workshops will be held from 11 a.m. to 12 p.m. on the following Fridays: September 22, 29, October 6, 13, 20, 27. 
Computers will be available but participants are encouraged to bring their own devices if they prefer. Each class will include an instructional period and a time for practice sessions. Attend one class or the entire series. If interested in attending, please register through the Library's event calendar or by calling (805) 962-7653.
Santa Barbara Public Library is among 50 public libraries nationwide awarded funding by the Public Library Association (PLA) this year to conduct workshops using the new DigitalLearn Affordable Connectivity Program (ACP) Basics training materials, developed in collaboration with AT&T. The PLA ACP Basics Workshop Incentive, supported by AT&T, enables libraries to conduct the workshops that help families and households learn about ACP and how to apply for the benefit.
The Affordable Connectivity Program, also known as the ACP, from the United States Federal Communications Commission (FCC) helps families and households with affordable internet service. In collaboration with AT&T, PLA developed the ACP Basics digital course and workshop materials to help provide families and households identify the information they need to apply for the program, how to apply for the program, and how to use the benefit.
The Affordable Connectivity Program (ACP) Basics course and more digital literacy resources are freely available in English and Spanish through AT&T ScreenReady and PLA's DigitalLearn.org.  
About the Public Library Association
The Public Library Association (PLA) is the largest association dedicated to supporting the unique and evolving needs of public library professionals. Founded in 1944, PLA serves nearly 9,000 members in public libraries large and small in communities across the United States and Canada, with a growing presence around the world. PLA strives to help its members shape the essential institution of public libraries by serving as an indispensable ally for public library leaders. For more information about PLA, contact the PLA office at 1 (800) 545-2433, ext. 5PLA, or pla@ala.org.
About Philanthropy & Social Innovation at AT&T  
We're committed to advancing education, creating opportunities, strengthening communities. and improving lives. As part of our companywide $2 billion commitment from 2021–2023 to address the digital divide, we launched AT&T Connected Learning to invest in connectivity and technology, digital literacy, and education solutions. We aim to help today's learners succeed inside and outside of the classroom. Since 2008, we've committed more than $600 million to programs that help millions of students across all 50 states and around the world, particularly those in underserved communities.